20' Speedtiller in Chopped Corn Stubble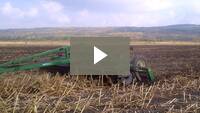 20' Speedtiller in Heavy Corn Trash
20' Speedtiller in Chopped Corn Stubble
20' Speedtiller in Hay Ground
20' Speedtiller on Prevent Plant land
Featured Item: 2967 Row Cleaners
Buying or rebuilding a planter this Spring? Call today for smart solutions to increase effectiveness. We stock side dressers, row cleaners, fertilizer coulters, closing wheels, and replacement parts ready to ship today!
"All the no-till attachments have been a lifesaver. With the way the weather's been, we wouldn't have been able to plant the ground we did without them. The Vipers have been worth every penny, for putting fertilizer down in the ground. The fertilizer openers are excellent for produce planting. The row cleaners are a vital addition, and the spike closing wheels are what I've enjoyed the most. Overall, they are easy to set up and adjust, and have been very useful, especially on wet, hard ground."
Ron Wagner, Wagner Farms, Rome, New York
3000 Series Vipers • 2967-042-ST-FW Row Cleaners • 2968-020 Fertilizer Openers • 6200-003 Spike Closing Wheels • 6200-108 Drag Chains
Choose RangeLine Group ag replacement parts and make hay while the sun shines! Our highest quality, best performing, and longest lasting ag parts will save you time and money down the road!
Disc Blades (PDF) - Coming Soon!
DISCOVER THE POTENTIAL OF YOUR LAND!

Are heavy stubble & crop residue giving you headaches? Do the weeds in your fields get out of control? Do you need a heavy duty tillage machine to get your land back into shape? If so…you need a SPEEDTILLER, which is a multi-purpose machine for primary tillage & seedbed preparation, designed to meet the harshest and most demanding soil conditions that face our producers today. Make sure you put one to the test!
The SPEEDTILLER chops, mixes, and incorporates stubble, manure, or other organic matter & conditions soil into a seed bed (in most fields) in just one pass, compared to conventional systems taking anywhere up to three passes. Soil is leveled efficiently, leaving a smooth seed bed and allowing grain drills to pass through without blockages.
Maximum cultivation for excellent weed control is done without having to work to the depths of conventional plowing systems.
The SPEEDTILLER achieves the best results at higher speeds (7-9m/h) giving a fuel efficient operation. Where one customer used 20 gallons of fuel/acre before, he now uses 12 gallons of fuel/acre with the Speedtiller! He is saving 8 gallons of fuel/acre! This presents huge cost savings & labor efficiencies, which ultimately affect the profitability of your farming operations. Engineered for strength and durability, the SPEEDTILLER is in a class of its own for superior soil management.